$ 26.00
These unique looking wooden barrel banks are made of mango wood - a fast growing and sustainable wood widely used for several home decor products. After about 15-18 years a mango tree stops producing quality fruits, the large 80-100 feet tall tree then becomes an extra source of income for mango farmers. Your purchase will support the mango farmers from India.
Handmade by artisans of Noah's Ark in Moradabad, India. Noah's Ark is an eco-friendly organization, working with several artisans in crafts such as metal, glass and wood. Most of their products are made out of recycled, scrap, and salvaged materials. The organization works on several welfare projects for their artisans, their families and the community.
Small measures 5" high x 3-3/4" diameter
Large Measures 6" high x 4-1/4" diameter
Handmade in India and fair trade imported.
Noahs's Ark Artisan Story
India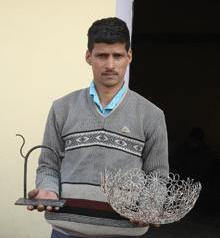 This item was handmade in India in a workshop sponsored by Noah's Ark, an NGO that offers funding for raw materials, machines and workshop repairs to 100 artisan groups across India. In exchange for assistance, workshops must prove that all employees are paid fair wages for their products and work in safe and clean conditions. Noah's Ark also offers free classes in capacity building to its network of 600 artisans, a rigorous quality control check, and runs education and water sanitation projects to benefit the artisans' children and the rest of the community. The company has established 20 new workshops in the past 15 years, and all employees are paid 10-15% above the local rate.