$ 10.00
Caña Flecha is a sugar cane like plant that can only be found along the coastal regions of Colombia, South America. The Zenu Tribe cultivates the thin stalk-like leaves using processes and techniques that date back to the 1500s and weaves them into various geometric patterns creating these unique bracelets. 
Artisans at the fair trade organization Joyeria Semilla are known for creating jewelry from materials readily available in their environment including seeds, natural fibers and leaves. Joyeria Semilla's objectives are to create new jobs, to revive Colombia's traditional handicrafts and to better manage their natural resources.
Measures 1" wide with variable diameter
Handmade in Colombia and fair trade imported.
Joyeria Semilla - Caña Flecha
Colombia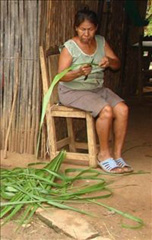 Joyeria Semilla meaning Seed Jewelry is a small fair-trade workshop in the Andean town of Villa de Leyva, Colombia. Girasol Taborda, a local artisan and social entrepreneur, started the workshop in the mid-1990s.
Joyeria Semilla's objective is three-folds; to create new jobs, revive Colombia's handicrafts sector and to motivate locals to better manage their natural resources. The organization works primarily with socially and economically disadvantaged youths, single mothers and people with disabilities in the area. The company offers free training in product design, technical training and marketing to new members. Joyeria Semilla has trained them in the craft of jewelry-making.