$ 3.00
The ancient Mayan folklore says if you tell your troubles to the worry dolls before you go to sleep and place them under your pillow, they take your problems away while you have a sound sleep. Worry dolls are also said to have magical powers and can make your wishes come true.
Maybe your having a bad hair day? Feel like you have put on a few extra pounds? How about working too many strenuous hours? Maybe just a stomach ache? No matter the worry, there is a customized worry doll here for you to help take the stress away!
Reduce your stress and worries by sharing them with these not so traditional worry dolls.
Worry Doll Messangers measure 2" Tall x 1.25" Diameter
Also available in an Assorted 60 Piece Display Box!
Dozens of Unique worries!
Not Recommended for Children Under the age of 6
Handmade in Guatemala and fair trade imported.
SLV - De La Selva Artisan Story
Guatemala
"From The Mayan People To You" – De La Selva, located near La Antigua in San Juan del Obispo Guatemala, is a producer and global exporter of high-quality Mayan and Guatemalan handicrafts. The organization began its journey as an exporter of Guatemalan handicrafts in 1991 and after 19 years of hard work, team support, and market development, the company has evolved to approximately 35 staff members who work from the main office situated in San Juan del Obispo.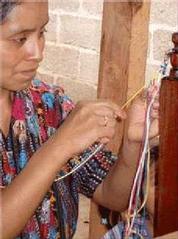 De La Selva works with artisans from all over this diverse country; each artisan is known for making a specific handicraft. Some of their popular product lines include the Mayan worry dolls, crochet stress balls, glass beaded jewelry, woven friendship bracelets, and miniature ceramics.