$ 7.50
This metal snake bicycle chain bottle opener is the product of the imagination and ingenuity of a Indian engineer-turned-artisan. Working from his small home-based workshop, he transforms salvaged metal scraps into wonderful junk yard critters, fun to decorate your home or office with. Over the years, demand for his creations has continued to grow and the success that began in his small workshop has now expanded beyond the borders of India to support artisans. It is a wonderful success story and a truly global fair trade product.
Not only can this Snake Bottle Opener do just that, it also serves as a wonderful sculpure for any snake enthusiast.
Measures 9-1/2" Long x 2-7/8" Wide (At the Head)
Handmade in India and fair trade imported.
Noah's Ark - Bicycle Chain Products
India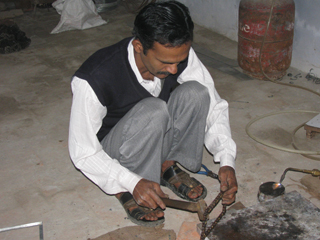 Kamrool Hassan is a metal artisan from Moradabad, a city located in northern India. He has been associated with Noah's Ark for more than 15 years. Belonging to a traditional metal workers family, Kamrool began his professional career making metal gates, raillings and window grills for homes. For generations, his ancestors belonged to the metal smith community and were known to have made brass and copper utensils for the Mughal royal families. Moradabad is the metal center of the country and it is known for its production of brass and metal artifacts. Noah's Ark works with several artisans in and around Moradabad, who produce unique products that cater to both domestic and international markets.