$ 20.00
This free-standing photo frame is handcrafted from recycled bicycle chains by the artisans at Kamrool Hasan's workshop outside Moradabad, India, one of many fair trade workshops sponsored by Noah's Ark. Noah's Ark is an NGO founded in 1986 by Samuel Masih, one of the leaders in the movement to pay fair wages to artisans in India.
Space for photo measures 3-1/2" diameter.
Chain frame measures 5-1/4" diameter x 2-1/2" deep. 
Handmade in India and fair trade imported.
Noah's Ark - Bicycle Chain Products
India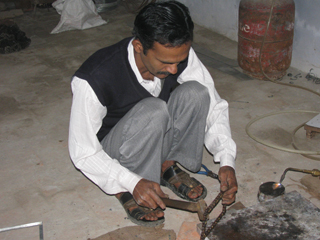 Kamrool Hassan is a metal artisan from Moradabad, a city located in northern India. He has been associated with Noah's Ark for more than 15 years. Belonging to a traditional metal workers family, Kamrool began his professional career making metal gates, raillings and window grills for homes. For generations, his ancestors belonged to the metal smith community and were known to have made brass and copper utensils for the Mughal royal families. Moradabad is the metal center of the country and it is known for its production of brass and metal artifacts. Noah's Ark works with several artisans in and around Moradabad, who produce unique products that cater to both domestic and international markets.