$ 27.00
Handmade in El Salvador using recycled inner tubes from car and truck tires, these collars are a great item for any dog. Right now they only come in black w/orange cut outs, but if our dogs like them we will have them made in other colors. Please have your dog join in helping the environment today!
Large Measures 24" long x 1" wide x 1/16" depth
Medium Measures 20" long x 3/4" wide x 1/16" depth
Small Measures 14" long x 3/4" wide x 1/16" depth
Silver D Ring for attaching Leash
Four Grommets are set in each Collar
Silver Buckle
Due to their recycled nature, no two collars are exactly alike. Please see below for our extended description about how recycled leather is made. Handmade in El Salvador and fair trade imported.
Uca Ruffatti Artisan Story
El Salvador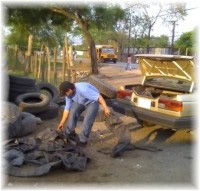 In Santa Ana, El salvador, discarded truck and car tires litter the road, ravines, and rivers, causing harm to the environment. Fortunately, one small artisan group, Uca Ruffatti, is not only helping to clean up the mess, but turning waste it into beautiful and functional works of art! Uca Ruffatti collects the inner tubes from the discarded tires and uses them to create handbags, purses, wallets and cosmetic bags in a variety of sizes and designs. The long-lasting toughness of the material contributes to the products' extensive life and durability. Some items are accented with recycled leather scraps and locally-grown cotton and indigo.