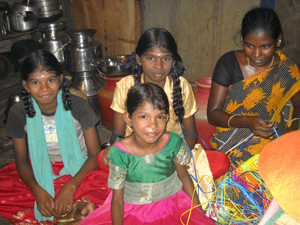 Every morning a group of women from the slums of Chennai search through piles of industrial waste, anything that can be salvaged ranging from metal, plastic, paper, cloth etc. The recyclable wastes are then sold to respective factories or recycle plants, where the waste is re-created into pipes, tubes, window frames, plastic sheets, adhesive tapes and insulation wires.
A similar process makes the plastic wires for these beautiful, hands woven totes and baskets. Available in an array of colors, the SPEED Trust - Varnajalamcooperative buys these recycled plastic wires which are used by the artisans to weave into these beautiful articles.
First amongst those trained in this craft at SPEED Trust was Revathi. Suffering from terminal blindness, today Revathi is the master trainer for new women members at SPEED Trust. The artisans engaged in making these bags are slum dwellers and physically challenged, who have the choice to work from home, without having to move out of their houses. The plastic wire basket project has helped women artisans from SPEED Trust to create a sustainable livelihood. They use the income generated from this activity to educate their children, health needs and other basic requirements for themselves and their families. The benefit of buying these bags is that it benefits marginalized women. Not just the weavers, but also the rag pickers who saved your bottle from the landfill.