$ 42.00
This recycled plastic basket has been handmade in India using bright strands of salvaged plastic, which are created by remelting recycled plastic bottles and other bits of plastic waste. Besides helping keep Chennai's streets and slums clean, this basket can be used as laundry basket or as a wastebasket and creates work for female slumdwellers in Chennai's largest slum.
Measures 16-1/2" high x 15" diameter
Available in Black or Blue
Handmade in India and fair trade imported.
SPEED Trust Artisan Story - Recycled Baskets
India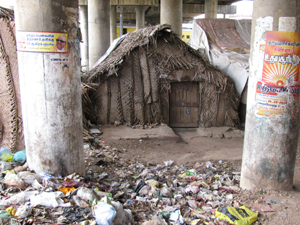 SPEED Trust (Slum People Education & Economic Development), is a non-profit organization based in Chennai, India. The organization supports, socio-economically deprived women from the urban slum areas of Chennai. SPEED Trust partnered with Baladarshan, a fair trade network of organizations which supports various women craft producers, organizations and cooperatives working towards creating better livelihood opportunities, self-sustainability and a platform for their products.