$ 32.00
A beautiful twig bowl made from salvaged bicycle spokes and scrap metal. Mount it on the wall, place it on the table to hold fruits and vegetables, or stash reciepts, mail and other easily misplaced items, a unique and unforgettable way to decorate your space. Enjoy our brand new collection of recycled metal bowls!!!
These exquisite bowls are handmade from recycled bicyce spokes at artist Khalil Ahmed's workshop, one of many fair trade workshops sponsored by Noah's Ark. Noah's Ark is an NGO founded in 1986 by Samuel Masih, one of the leaders in the movement to pay fair wages to artisans in India.
Measures 2-3/4" high with 12" diameter
Handmade and fair trade imported from India.
Noahs's Ark Artisan Story
India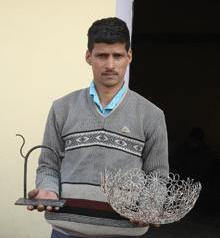 This item was handmade in India in a workshop sponsored by Noah's Ark, an NGO that offers funding for raw materials, machines and workshop repairs to 100 artisan groups across India. In exchange for assistance, workshops must prove that all employees are paid fair wages for their products and work in safe and clean conditions. Noah's Ark also offers free classes in capacity building to its network of 600 artisans, a rigorous quality control check, and runs education and water sanitation projects to benefit the artisans' children and the rest of the community. The company has established 20 new workshops in the past 15 years, and all employees are paid 10-15% above the local rate.