$ 20.00
These recycled billboard bags are the best way to advertise "Eco-Friendly"! Our computer tablet shoulder bags are made with discarded or rejected billboards and are lined with 100% cotton fabrics. Make a statement with this eco-chic tablet carrier at a picnic, day trip or just a routine day at school. It perfectly fits an iPad with an outer case, this allows you to throw your tablet computer over your shoulder with an added layer of padding and water resistance.
These unique bags are handmade by women artisans trained at SPEED Trust, Chennai, India. SPEED Trust works with women from the urban slums of the city. These women work from the organizations production center, apart from the products being sold through the SPEED Trust shop, these fair trade bags are exported to several countries.
Measure 11-1/2" high x 9" wide
Opens with one velcro flap
Fits on iPad with standard outer case
22" shoulder strap for convenience
Handmade in India and fair trade imported.
SPEED Trust Artisan Story - Recycled Billboard Bags
India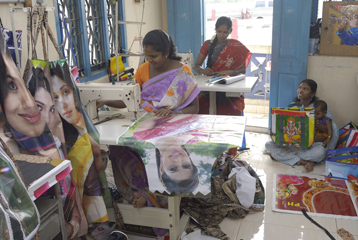 SPEED Trust (Slum People Education & Economic Development), is a non-profit organization based in Chennai, India. The organization supports, socio-economically deprived women from the urban slum areas of Chennai. SPEED Trust partnered with Baladarshan, a fair trade network of organizations which supports various women craft producers, organizations and cooperatives working towards creating better livelihood opportunities, self-sustainability and a platform for their products.