$ 26.00
Shopping or window shopping, these eye-catching, colorful totes could make you the talk of the town! These enviable totes made from discarded/ rejected billboards and are lined with 100% cotton fabric for durability. Be eco-chic, and make a fashion statement!!
These unique bags are handmade by women artisans trained at SPEED Trust, Chennai, India. SPEED Trust works with women from the urban slums of the city. These women work from the organizations production center, apart from the products being sold through the SPEED Trust shop, these fair trade bags are exported to several countries.
Measure 14" high x 16" wide x 5-1/2" deep
One inside velcro pocket
8-1/2" drop
No one bag is alike, please mention if you have specific color requirements
Handmade in India and fair trade imported.
SPEED Trust Artisan Story - Recycled Billboard Bags
India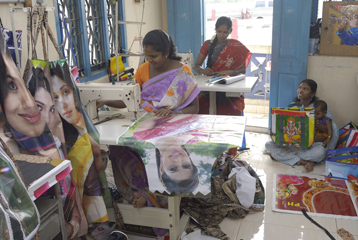 SPEED Trust (Slum People Education & Economic Development), is a non-profit organization based in Chennai, India. The organization supports, socio-economically deprived women from the urban slum areas of Chennai. SPEED Trust partnered with Baladarshan, a fair trade network of organizations which supports various women craft producers, organizations and cooperatives working towards creating better livelihood opportunities, self-sustainability and a platform for their products.