$ 10.00
Though tigers are predominately solitary hunters and rarely form groups.  When they do join together the group is known as a streak of tigers. While most cats abhore water, tigers are one of the few members of the feline family that enjoys to swim. They have even been known to swim for up to four miles. Make one of these adorable papier mache tigers, made from recycled paper and plastic, a part of your streak. But remember, this tiger does not like to get wet!
Small Tiger measures 4" high x 2-3/4" wide x 3" deep
Large Tiger and Bank versions measure 6-1/2" high x 5" wide x 5-1/2" deep
Tigers are sold seperately, but they look great when displayed in streaks
Handmade in the Philippines and fair trade imported.
Paper Capers
The Philippines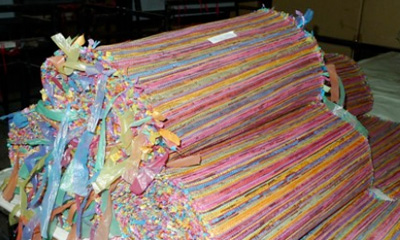 Paper Capers International was started in 1988 as a subcontractor for a major exporter of ladies' fashion accessories and novelty gift items. It was originally based in Quezon City, but as it grew it was moved to Antipolo City, where it could utilize a larger space to organize the raw materials, process the plastic injection-molding and accommodate a larger grouped of in-house artisans. Nurturing the company with a commitment towards product design, artisan welfare and product efficiency, the proprietor Arlene Gaddi Maceda and her younger brother Arthur Flores Gaddi are committed to making the world a better place; and they believe with Paper Capers they have.