$ 10.00
The hippopotamus is considered the most ferocious of all wild animals in Africa? They are responsible for more deaths, than any other wild animal. Many have visions of lazy hippos lying around in the sun, yawning in the heat. Well, when a hippo yawns that's not a sign of being tired. It's a sign of anger. When a hippo feels threatened he opens his mouth and shows his killer teeth. And, if that doesn't scare off the threat he's perfectly capable of attacking.
These hippos, on the other hand, are cute, docile and safe to have around the house. Made of recycled paper and plastic, you don't need to worry about their mouths; they have been glued shut.
Hippo - Large and Bank versions measure 7" high x 5" wide x 5" deep 
Hippo - Small measure 3-3/4" high x 2-3/4" wide x 2-3/4" deep
Papier Mache animals also available as Giraffes, Elephants, Tigers, Chickens, and Rabbits
Handmade in the Philippines and fair trade imported.
Paper Capers
The Philippines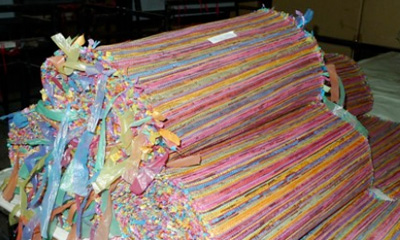 Paper Capers International was started in 1988 as a subcontractor for a major exporter of ladies' fashion accessories and novelty gift items. It was originally based in Quezon City, but as it grew it was moved to Antipolo City, where it could utilize a larger space to organize the raw materials, process the plastic injection-molding and accommodate a larger grouped of in-house artisans. Nurturing the company with a commitment towards product design, artisan welfare and product efficiency, the proprietor Arlene Gaddi Maceda and her younger brother Arthur Flores Gaddi are committed to making the world a better place; and they believe with Paper Capers they have.