$ 10.00
Unfortunately some view the elephant as a destructive beast that ruthlessly bulldozes its environment. In comparison, it is estimated man is clearing more forests in one day than all the elephants in Africa will 'destroy' within one year. Elephants provide a vital role in their ecosystem. They modify their habitat by converting savannah and woodlands to grasslands. They provide water for other species by digging water holes in dry riverbeds. The depressions created by their footprints and their bodies trap rainwater.  The paths they create become natural firebreaks and rain water conduits. Help preserve the elephant by taking one of these adorable papier mache elephants home with you today. They are handmade from recycled paper and plastic so they are helping to save the planets ecosystem while adorning yours. Introduce these elephants into your habitat and see how transformative the elephant can be!
Small Elephant measures 4" high x 4-1/2" wide x 3-1/2" deep
Large Elephant measures 7-1/2" high x 7-1/2" wide x 6" deep
Elephants are sold seperately, but they look great when displayed in groups
Handmade in the Philippines and fair trade imported.
Paper Capers
The Philippines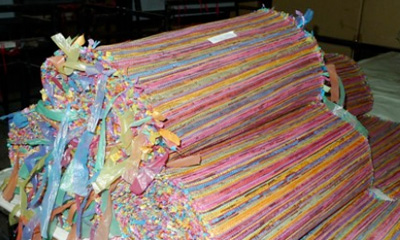 Paper Capers International was started in 1988 as a subcontractor for a major exporter of ladies' fashion accessories and novelty gift items. It was originally based in Quezon City, but as it grew it was moved to Antipolo City, where it could utilize a larger space to organize the raw materials, process the plastic injection-molding and accommodate a larger grouped of in-house artisans. Nurturing the company with a commitment towards product design, artisan welfare and product efficiency, the proprietor Arlene Gaddi Maceda and her younger brother Arthur Flores Gaddi are committed to making the world a better place; and they believe with Paper Capers they have.