$ 10.00
Natural colored ceramic piggy banks are available in three sizes for kids or adults...or depending on the amount of money you would like to save. They are an excellent conscious gift and a great way to encourage the value of saving to a young mind. Handmade by artisans from the Ceramica Quinua artisan cooperative near Ayacucho, Peru.
Large measures 5-3/4" high x 5" wide x 8" long
Medium measures 4-1/4" high x 3-1/2" wide x 5-1/2" long
Small measures 2-3/4" high x 2-1/4" wide x 3-3/4" long
Also available in black
Handmade, sculpted, and fair trade imported from Peru.
Ayacucho - Ceramica Quinua Artisan Story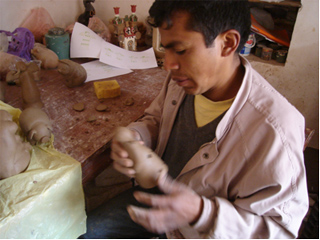 Ceramica Quinua, an artisan cooperative known for its social and environmental responsibility, offers steady work to six workshops and 36 families in Ayachucho, Peru. Ceramica Quinua is dedicated to decreasing the use of firewood to reduce deforestation, and as such, works primarily with clay, which is extracted from the land in a controlled manner to avoid erosion.