$ 5.50
Spice up your look with these handmade and eco-friendly rosewood bangles. Mix and match these well finished, smooth to feel bangles, with other accessories to enhance your ensemble.
These bangles are handmade by artisans from El Remante, Guatemala. These artisans cum conservationists work with pre-fallen trees and judiciously using one tree, per artisan, each year. The community is committed to saving the beautiful rainforests and the wild life in their region.
Buy a few for yourself or a friend to enjoy the pleasant jingle of wood while you encourage Guatemalan families to continue to employ forest conservation practices, which benefits the planet and therefore all of us!
Inside Diameter Measures 2-1/16" to 2-1/2" by 7/16" to 1/2" high
Handmade in Guatemala and fair trade imported.
Ecological Hand Craft Project Artisan Story
Guatemala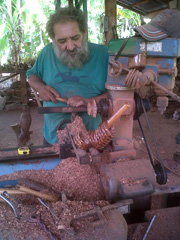 A small community of cultivators from El Remate, Guatemala relied on slash and burn agriculture about 20 years back. On an average one farmer would destroy over 5 hecters of forest land every year. Gradually reducing soil fertility, consistantly lead to cutting of more trees and land clearing for agriculture and cattle pastures. Today the same community has a mission to protect their trees and the forest land.