$ 12.00
Mud cloth is a traditional fabric from western Africa. The base cloth is hand-woven cotton, traditional designs are hand-painted and the cloth is dyed in natural pigments. These stuffed giraffe toys are made with mud cloth and are available in an assortment of natural colors and patterns.
Handmade by artisans at Sininyesigi, a Mali based women's organization. Sininyesigi, in bambara (local language) means to "Plan the future". The organization supports the artisans with health care, child care, nutrition and education. Sininyesigi, also provides local men and women with vocational trainings, which has helped them find alternate income sources and a better standard of living.
Small measures 15" high x 5" wide x 10" deep
Medium measures 11" high x 4" wide x 7" deep
Large measures 8-1/2" high x 4" wide x 10-1/2" deep
Handmade in Mali and fair trade imported.
Sininyesigi
Mali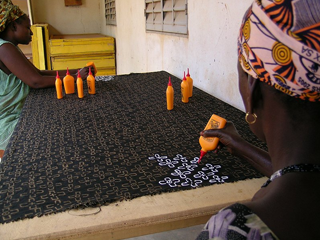 Sininyesigi is a Malian women's association which means, "plan the future" in bambara, the local language of Mali. Sininyesigi, is located in Bamako, the capital of Mali, started as a women's association in 1995 by 12 women from a small town Segou, today Sininyesigi has 43 members.