$ 30.00
This cute Muchacho (young boy) piggy bank is designed with a smart pair of pants and a vibrant waist belt. It is handmade by artisans from the Ceramica Quinua artisan cooperative in Ayacucho, Peru. The artisans use a high quality clay called "llinco" sourced from the region and sculpt their creations using techniques passed down from their ancestors. A great gift idea for birthdays or for those that just want to save their pennies.
Measures 4-1/2" high x 4" wide x 5-1/2" long
Muchacha (young girl) piggy bank also available
Handmade, hand-painted, and fair trade imported from Peru.
Ayacucho - Ceramica Quinua Artisan Story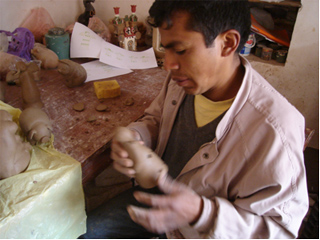 Ceramica Quinua, an artisan cooperative known for its social and environmental responsibility, offers steady work to six workshops and 36 families in Ayachucho, Peru. Ceramica Quinua is dedicated to decreasing the use of firewood to reduce deforestation, and as such, works primarily with clay, which is extracted from the land in a controlled manner to avoid erosion.