$ 36.00
Available in a variety of traditional and contemporary colors, these handwoven aprons are perfect for protecting your clothes while cooking or doing other messy chores. Artisans from Xetonox, Guatemala use traditional foot treadle looms to weave these aprons. The non-profit organization Mayaworks supports this and other artisan communities in the central highlands of Guatemala through loans, scholarships and assistance in bringing their products to market.
Measures 31" length x 25" bottom width with an 8" drop at neck
Pocket measures 7" x 6-1/2"
Handmade in Guatemala and fair trade imported.
Mayaworks Artisan Story
Guatemala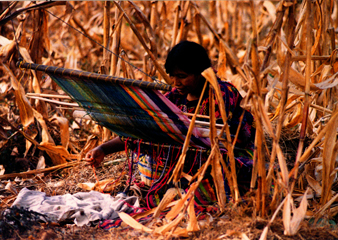 Maya Works is a non-profit organization that works with many Mayan artisan communities in Guatemala. The organization works towards finding the right marketing platform for the artisans and their products. Maya Works believes in community development through economic development, and the organization's ultimate goal is to overcome poverty and illiteracy and to create a fair marketplace where artisans may benefit directly from their work.