$ 15.00
These beautiful drawstring bags available in 3 sizes, embellished with traditional "pucca" embroidery, are hand made by women artisans from Pakistan. Pakistan, is known for beautiful traditional textiles with embroidery and embellishments. Each tribe/community has a signature embroidery pattern which identifies one tribe from the other in the region.
These bags are handmade by artisans supported by AHAN (Aik Hunar Aik Nagar), Pakistan. AHAN, works with artisans in about four provinces of Pakistan, providing assistance in product development, trainings and market linkages. AHAN, aims at improving the quality of life for these artisans and their communities.
Large measures 7-1/2" high x 7-1/2" wide
Medium measures 6" high x 6" wide
Small measures 5" high x 4" wide
Handmade in Pakistan and fair trade imported.
AHAN - Aik Hunar Aik Nagar
Pakistan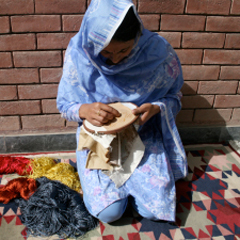 AHAN, was initiated in 2007 as a subsidiary of Pakistan Industrial Development Corporation (PIDC). Registered as a non-profit organization, the aim of the AHAN project is to generate employment opportunities in rural areas of Pakistan and promote the traditional craft skills through trainings, quality assurance, micro credit loans and marketing support.