$ 5.00
These beautiful hand crafted bookmarks have been arranged with dried plants and flowers. If your reading a book and dreaming of spring or the green grass that will soon be coming. Put one of our beautiful handmade  bookmarks from El Salvador between your pages and you will flow down a path of dreams. These bookmarks are two sided and are just as beautiful on the other side.
Bookmarks measure 6" tall x 3 1/4" wide
Available with flowers on one side or two sides
Handmade in El Salvador and fair trade imported.
Artecomasagua Artisan Story - Flower Greeting Cards and Bookmarks
El Salvador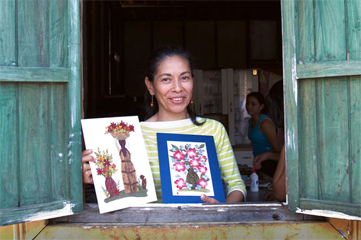 As a result of the economic crisis in coffee cultivation, a group of women entrepreneurs in th area of Comasagua - El Salvador, formed Arte Comasagua, an organization of artisans who produce exquisite designs with plants and flowers of the area. These women work with wildflowers from the community, in a conscious and sustainable manner, keeping the environment beautiful and harmonious.