$ 70.00
Our embroidered kitchen set makes magic happen in the kitchen while helping Afhan artisans rebuild their war-torn country. A great gift for chefs and foodies, each hand-embroidered apron, oven mitt and pot holder is available in four different colors of embroidery.
Apron measures 33-1/2" high x 21-3/4" wide (at bottom) x 9" wide (at bib) with a 9" x 8" pocket

Oven Mitt measures 10-3/4" high x 81/2" wide

Pot Holder measures 11-1/4" high x 8-3/4" wide

Handmade in Afghanistan and fair trade imported.  
Zardozi Artisan Story
Afghanistan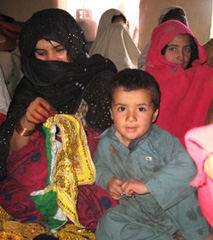 Zardozi, an ancient form of Persian embroidery, is known for its intricate patterns, which are often inlayed with pearls or other precious stones. While typically associated with royalty, the time-honored art has also inspired a social movement: Zardozi Markets for Afghan Artisans, a Kabul-based NGO that helps artisans and refugees find new markets for their crafts.