$ 12.00
These three dimensional puzzles are made from mango wood, a soft and light wood best for carving and creating decorative objects. The wood is obtained from mango trees that have reached a mature age and are unable to bear fruit, offering a sustainable way to use waste wood as the old is replaced by new plantations.
These puzzles are a great mind exercise for older children and are an eco-positive and sustainable gift option as well.
Handmade by artisans in India at Mohd Israil's workshop, one of many fair trade workshops sponsored by Noah's Ark. Noah's Ark is an NGO founded in 1986 by Samuel Masih, one of the leaders in the movement to pay fair wages to artisans in India.
Handmade in India and fair trade imported.
Noahs's Ark Artisan Story
India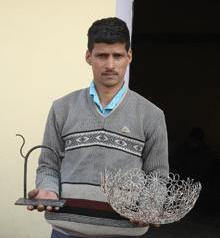 This item was handmade in India in a workshop sponsored by Noah's Ark, an NGO that offers funding for raw materials, machines and workshop repairs to 100 artisan groups across India. In exchange for assistance, workshops must prove that all employees are paid fair wages for their products and work in safe and clean conditions. Noah's Ark also offers free classes in capacity building to its network of 600 artisans, a rigorous quality control check, and runs education and water sanitation projects to benefit the artisans' children and the rest of the community. The company has established 20 new workshops in the past 15 years, and all employees are paid 10-15% above the local rate.