$ 3.50
Your favorite dog will love wearing these stylish bandanas, which are hand-woven on traditional Guatemalan back strap looms. This loom is very basic, comprising two sticks or bars between which the warps are stretched. One bar is attached to a fixed object, such as a tree, and the other to the weaver usually by means of a strap around their back.
These fun bandanas are handmade by women artisans from the UPAVIM cooperative on the outskirts of Guatemala City. UPAVIM, which stands for United for a Better Life, is an 80 member artisan enterprise helping women through social and economic empowerment. In addition to training women in creating various handmade textiles, UPAVIM has established a school, a pharmacy and a bakery within their cooperative.
Small Measures 4-1/2" high x 6" wide
Medium Measures 6" high x 7-3/4" wide
Large Measures 9" high x 10" wide
Extra Large Measures 10-1/4" high x 11-1/2" wide
Available in blue tones, rainbow and assorted colors
Handmade in Guatemala and fair trade imported.
UPAVIM Artisan Story
Guatemala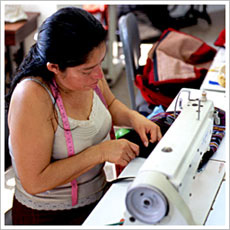 UPAVIM Crafts is a cooperative of women who live in marginalized communities on the outskirts of Guatemala City. The women in the organization are mothers, homemakers, widows and some have been abandoned by their families. Many of them are the sole bread winners for their families. Unidas Para Vivir Mejor(United for A Better Life, or UPAVIM) was established in 1989 to create jobs for these women and to establish facilities of health-care, education and other social issues to benefit the community they lived in. Over the years, UPAVIM has grown from a small community health project to about a 80 member business cooperative. The organization employs teachers, seamstresses, nurses, administrators, cooks, cleaners and secretaries each of whom is paid a fair wage and is linked to UPAVIM 's fair trade business.
Amongst some of the achievements, In 2002 the cooperative was awarded the best Non-traditional Textile Exporter award by AGEXPRONT, a national trade organization, also UPAVIM's Montessori school was recognized by the Guatemalan government.