$ 16.00
The average person generates 4.5 pounds of trash every day - about 1.5 tons of soild waste per year.  It is said the amont of wood and paper we throw away each year is enough to heat 50,000,000 homes for twenty years.  Almost ever hour, nearly 250,000 plastic bottles are thrown out, and these bottles constitute close to 50% of recyclable waste in landfills. The inspired artisans at Paper Capers have taken steps to help reverse this trend by starting to weave recycled paper and plastic into brilliant color variations.  These dark multicolor photo frames could be a nice addition to you or your friends photo collection. These upcycled woven plastic photo frames are a good way to show off your good taste and your good sense.
Made to fit 4" x 4", 4" x 6" and 5" x 7" images
4x4 - outside measures 6-1/2" high x 6-1/2" wide - inside measures 3-3/8" high x 3-3/8" wide
4x6 - outside measures 8-1/2" high x 6-1/2" wide - inside measures 5-3/8" high x 3-3/8" wide
5x7 - outside measures 9-1/2" high x 7-1/2" wide - inside measures 6-3/8" high x 4-1/2" wide
Each comes with an easel back 
Can be oriented both horizontally and vertically
Handmade in the Philippines and fair trade imported.
Paper Capers
The Philippines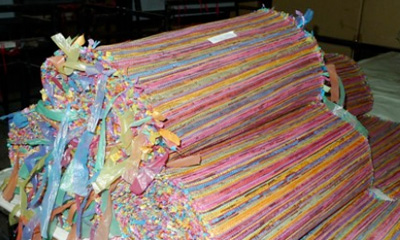 Paper Capers International was started in 1988 as a subcontractor for a major exporter of ladies' fashion accessories and novelty gift items. It was originally based in Quezon City, but as it grew it was moved to Antipolo City, where it could utilize a larger space to organize the raw materials, process the plastic injection-molding and accommodate a larger grouped of in-house artisans. Nurturing the company with a commitment towards product design, artisan welfare and product efficiency, the proprietor Arlene Gaddi Maceda and her younger brother Arthur Flores Gaddi are committed to making the world a better place; and they believe with Paper Capers they have.