$ 21.00
Soft and cuddly, this tamarin monkey plush toy is a great gift for your pre-schooler. Bring home this friendly Tamarin and help save his natural habitat in Colombia.
These plush toys are handmade by women from Colombia - a much needed source of income for their families. Further, these toys help Eco-Colombia support and fund the rehabilitation and conservation of illegally trafficked monkeys. Purchase of these products will support the women, children, and monkeys in Colombia.
Measures 6-1/2" high x 3" wide x 2" deep
Handmade in Colombia and fair trade imported.
Eco-Colombia
Colombia
Fundación Ecologica Santa Fe in Colombia, has been playing a vital role in the conversation and protection of the environment. Several efforts lead to the idea of, creating a zoological park called the "Forest of Independence", where the foundation could conserve, protect and rehabilitate various animals, birds and reptile species. Fund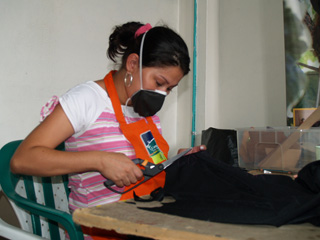 ación Ecologica Santa Fe, runs a special program under which it rehabilitates and returns back the Colombian monkey to its natural habitat. Most of these Colombian monkeys are confiscated from people involved in illegal wildlife trafficking. Colombia's habitat destruction from agricultural expansion and the cultivation of coca plants threatens the survival of many such species.