$ 8.50
Our two-toned Copper & Brass Cuff makes an easy way to channel India's unique culture and style. Handmade using salvaged copper and bronze scraps by the artisans at Mohd Intizar's workshop in Sarai Tarin, India, this versitile look fits every wrist.
Cuff measures 1-1/2" wide x 2-1/2" diameter
Handmade in India and fair trade imported.
Noahs's Ark Artisan Story
India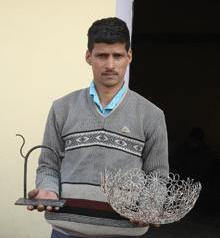 This item was handmade in India in a workshop sponsored by Noah's Ark, an NGO that offers funding for raw materials, machines and workshop repairs to 100 artisan groups across India. In exchange for assistance, workshops must prove that all employees are paid fair wages for their products and work in safe and clean conditions. Noah's Ark also offers free classes in capacity building to its network of 600 artisans, a rigorous quality control check, and runs education and water sanitation projects to benefit the artisans' children and the rest of the community. The company has established 20 new workshops in the past 15 years, and all employees are paid 10-15% above the local rate.