$ 12.00
Bring in a tropical feel to your room with these scented coconut shell candles. Made from real coconut shells, the long lasting wax is hand-poured into the shells and burns evenly. Coconut shells are naturally flame retardant and biodegradable. Available in three popular fragrances cinnamon, coconut and vanilla, light these scented candles to create a relaxing and soothing ambiance.
Silence is a non-profit, fair trade organisation based in Kolkata, India. Silence works with about 200 "differently-abled" artisans trained in skills such as candle making, incense making, packaging, hand-painting and jewelery making. Silence also runs a training school for the "differently-abled", where young boys and girls are trained in skills such as applied arts, painting and graphic design, to help them secure a better future.
Measures 1-3/4" high x 3-1/2" diameter
Handmade in India and fair trade imported.
Silence
India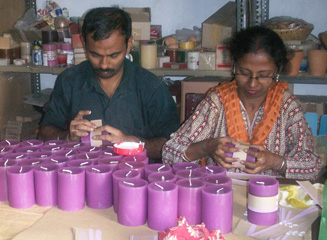 Silence was conceived in 1979 when a small group of deaf and mute artists with creative skills founded the organization in order to help downtrodden and disabled artisans in their community. With much effort and support, Silence was registered as a non-governmental organization. The artists at Silence began by creating hand-painted greeting cards which continue to be one of the most popular items among Silence's product range.
Silence began by selling these hand-painted cards at various local exhibitions, fairs and get-togethers. In 1995, Silence became a member of IFAT (International Federation for Alternative Trade) and was introduced into the international fair trade market. This was a gateway for the organization to explore new products, skills and techniques for its artisans. In the past 17 years, Silence products have been well-received in the fair trade export market. Apart from hand-painted cards, Silence is known to create several handmade products such as decorative candles, incense sticks, woodcraft items, jewelry and papier maché ornaments.