$ 10.00
These hand-painted, ceramic piggy banks are made by artisans at Comite Artisanal Haitien, Haiti. Unique and whimsical, these banks can be added to a collection or used for holding your change. What goes in will not come out with out smashing the pig.
Comite Artisanal Haitien, supports over 200 artisans and their rich vibrant culture. The organization has helped these skilled artisans, to promote their generation old heirloom crafts. The various crafts practiced by Haitien artisans include, unique metal artworks, river stone carvings, paper mache masks and hand painted wooden products.
Measures 4" high x 3-3/4" wide x 5-5/8"diameter
No Exit Hole
Handmade in Haiti and fair trade imported.
Comite Artisanal Haitien Artisan Story
Haiti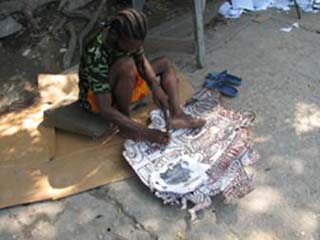 Comite Artisanal Haitien (CAH) was founded in 1973 to support rural craft persons from Haiti. CAH gives local artisans the ability to sell their crafts in the local markets in Port-au-Prince. The aim of the organization is to build a sale outlet for artisanal communities and help reduce the flow of migrating youth from these communities into the city as wage workers.