$ 30.00
This cute mother with baby owl bank set is a unique handmade gift that both children and adults will appreciate. It is hand-sculpted by artisans in Ayacucho, Peru with a long-tradition of producing ceramic works of art. These owls are hand-painted in bright vibrant colors and are a hoot to have around the house. 
Mother Owl measures 5-1/2" high x 4-1/2" diameter
Baby Owl measures 2-1/2" high x 2-1/4" diameter
Handmade, sculpted, and painted in Peru and fair trade imported.
Ayacucho - Ceramica Quinua Artisan Story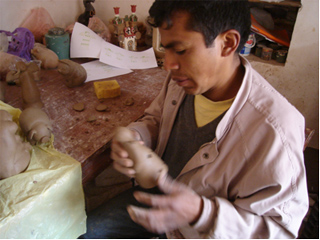 Ceramica Quinua, an artisan cooperative known for its social and environmental responsibility, offers steady work to six workshops and 36 families in Ayachucho, Peru. Ceramica Quinua is dedicated to decreasing the use of firewood to reduce deforestation, and as such, works primarily with clay, which is extracted from the land in a controlled manner to avoid erosion.