$ 30.00
Recycled, handmade and durable are a few qualities of our reversible aprons that are lined on the inside with hand block-printed kalamkari fabrics. Made from discarded or rejected digitally printed polyvinyl billboard advertisements, these aprons will surely encourage you to try out a new recipe every day. These aprons are the perfect eco-friendly accessory for your kitchen or gift for foodies, environmentalists or home chefs.
These fantastic recycled aprons are hand-stitched by women artisans at Speed Trust, a non-profit organization located in the southern part of India. This organization supports socially and economically disadvantaged women from urban slum areas through vocational training, financial support and income generation.
Measures 35" high x 25-1/2" wide
One of a kind - please accept the design we choose for you
Handmade and fair trade imported from India.
SPEED Trust Artisan Story - Recycled Billboard Bags
India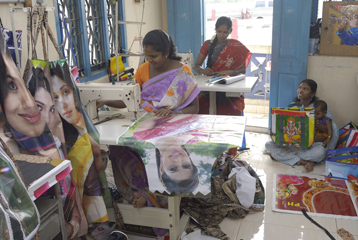 SPEED Trust (Slum People Education & Economic Development), is a non-profit organization based in Chennai, India. The organization supports, socio-economically deprived women from the urban slum areas of Chennai. SPEED Trust partnered with Baladarshan, a fair trade network of organizations which supports various women craft producers, organizations and cooperatives working towards creating better livelihood opportunities, self-sustainability and a platform for their products.